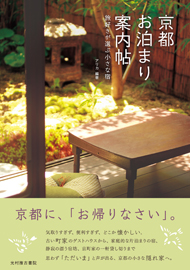 Kyoto Accommodation Guide
1,500yen+tax
Arika Inc.
Size/14.8×21.0cm
ISBN978-4-8381-0440-6
A guidebook introducing accommodations with characteristics unique
to Kyoto. Relatively small accommodations that are not very posh and
provide only a limited number of services yet are comfortable and nostalgic
are included such as guesthouses, simple accommodations without meals,
temple lodgings and reserving a whole machiya townhouse. Kyoto offers a
variety of accommodation styles to let guests feel at home.