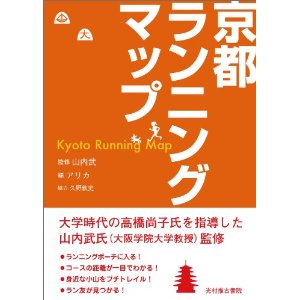 Kyoto Running Map
1,000yen+tax
Arika Inc.
Size/10.6×14.7cm
ISBN978-4-8381-0462-8
Twenty-five recommended running courses are introduced with maps,
both casual courses to run for fun and ones for serious joggers. Each map
clearly indicates the distance as well as showing toilet locations and points
runners can get changed. Major landmarks are shown with photos. Useful
information of running classes, shops for runners and running clubs are also
listed. The book is pocket sized so that runners can carry it with them on
their run!