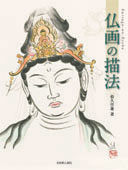 Buddhist Painting Techniques
2,800yen+tax
MATSUHISA Kayu
Size/22.5×30.0cm
ISBN978-4-8381-0376-8
A textbook of Buddhist painting using works by MATSUHISA Kayu,
director of the Matsuhisa Sohrin Buddhist Art Studio. Matsuhisa instructs
very carefully from how to mix paints to how to draw. Following her
instructions will allow painters to achieve beautiful Buddhist paintings in
the end which will surely touch people's hearts. How to paint a variety
of Buddhist deities (Sho Kannon, Bosatsu, Amida Nyorai, Fudo Myo-o,
Zenzai Doji, Jizo Bosatsu, Jibo Kannon, Shichifukujin, etc.) is introduced
as well as sketches.