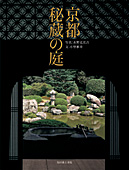 Treasured Gardens in Kyoto
3,800yen+tax
MIZUNO Katsuhiko・text: ONO Masaaki
Size/22.6cm×30.0cm
ISBN978-4-8381-0333-1
In Kyoto, many closed-door or never-before-opened gardens are rarely seen
by the general public. This photo book introduces such "selected secret"
gardens with informative explanations by the author providing keys for
readers about how they can enjoy the gardens more deeply and understand
their structures better. This great guide invites readers to enter the beautiful
world of gardens in Kyoto that have been nurtured for generations up until
this very day.