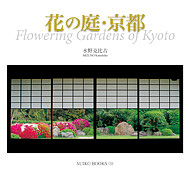 Flowering Gardens of Kyoto
1,600yen+tax
MIZUNO Katsuhiko
Size/17.0cm×19.0cm
ISBN978-4-8381-0406-2
This photo book features flowering gardens in Kyoto. Kyoto gardens
bring delight in every season; however, some are even more supreme than
ever in the flowering season. One example is the famous rock garden in
Ryoan-ji Temple with its leaning branches of weeping cherry blossoms.
Both famous gardens and lesser-known ones are introduced with vibrant
photos. The book can be used as a guidebook as it contains maps and basic
information of each place (opening hours, access, etc.).