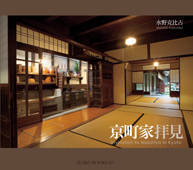 Invitation to Machiya in Kyoto
1,600yen+tax
MIZUNO Katsuhiko
Size/17.0cm×19.0cm
ISBN978-4-8381-0443-7
"Kyoto's machiya townhouses are full of the wisdoms of life." Machiya
is a classical residential architectural form of Kyoto. This book consists
of beautiful photos of typical machiya structures including courtyard
gardens, classical Japanese rooms with tatami mats and traditional kitchens.
Seasonally changed interior decorations and the related traditional
ceremonies are also introduced offering readers a glimpse into the wisdom
of Kyoto life.