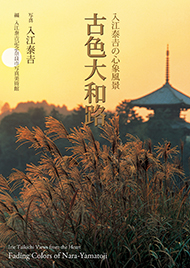 Irie Taikichi Views from the Heart Fading Colors of Nara-Yamatoji
3,800yen+tax
IRIE Taikichi
Size/15.0×21.2cm
ISBN978-4-8381-0475-8
IRIE Taikichi (1905-1992) was a distinguished photographer who devoted
himself for over fifty years to capturing the beauty of Nara, the city of his
birth. The book was published as a memorial for the 20th anniversary of
his death. 315 of IRIE's photos are introduced featuring the scenery of
Nara and Buddhist statues. Every single photo presents the beauty of Nara
and the essence of the spirit of Japan.