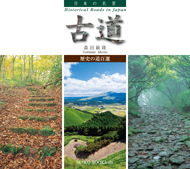 Historical Road in Japan
1,600yen+tax
MORITA Toshitaka
Size/17.0×19.0cm
ISBN978-4-8381-0442-0
A photo book featuring historical roads: Seventy-eight of the roads were
selected from "The 100 Best Historical Roads" listed by the Agency for
Cultural Affairs along with nine others. Some examples are arterial roads
such as the Tokaido and Nakasendo roads, religious roads for worshippers
to reach temples and shrines, roads that were developed as industries
prospered, and ancient stone-paved roads with their historical atmosphere.
Flipping through the pages will allow readers to imagine the daily lives of
people who have passed along these roads.