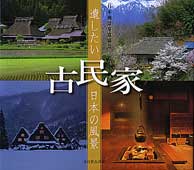 Scenery of Japan which wants to leave Old Private House
2,200yen+tax
Members of Japan Nature Scenery Photograph Association
Size/23.8×22.0cm
ISBN978-4-8381-9929-7
A photo book collecting together atmospheric scenes of traditional Japanese
residences and small towns and villages, mainly with thatched roof
houses. The book evolved from the ardent wish of Japan Nature Scenery
Photograph Association members to make a photo book of such unique
scenery while it still remains. Eighty-eight images of Japanese residences
were strictly selected from about 750 photos.