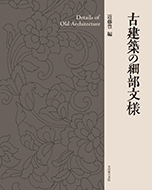 Details of Old Architecture
7,000yen+tax
Kondo Yutaka・photo: HONDA Toshio
Size/22.5cm×28cm
ISBN978-4-8381-0482-6
A unique photo book featuring detailed structural designs of old Japanese
buildings in Kyoto, Nara, Shiga, Kamakura and other locations with
educational instructions. Delicate designs of decorative patterns are
introduced with colored photos. Drawings of some designs are also
included. The variety of traditional designs will inspire those who study
architecture as well as who are interested in design.